What's your Online Marketing Strategy?
Building a great website is a very important step for any online business but generating traffic to your site is the real key to success. Over the years internet marketing has changed and it continues to evolve daily.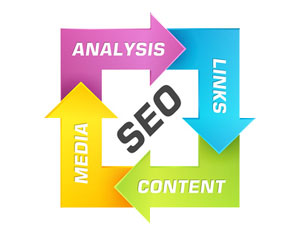 SEO (Search Engine Optimization)
This is the most critical part of your website is SEO. The amount of information that's required to do proper search engine optimization is overwhelming at times. Did you know that Google uses over 200 ranking factors to determine if a page should be listed #1 in the search results? There are other factors in addition to the items on the page, for example the age of the domain, the number of incoming links, the number of social media connections. The list goes on.
Ever see those ads for companies that guarantee #1 rankings? Get us on a phone call with that same company for a few minutes and we can show you where it's all smoke and mirrors. Ever see the offers for SEO software that will instantly boost your website into the top of the rankings? Many sites that used that type of software are now banned by search engines such as Google for being outside their terms of service.
There is no magic bullet for SEO. It's harder to rank these days on search engines but it is still very possible. The internet is still a gold rush and it's incredible that you can pay for a virtual storefront or website on the web and reach millions of people.
We can offer you SEO consulting. Do as much of it yourself, or let us consult with you or work with your SEO company.
Pay Per Click (PPC)
Organic results are the most effective but advertising direct on the search engine is called Pay Per Click. Basically you are paying if a customer clicks on your text ad and visits your website. PPC can be very effective. There are a number of factors that must be taken into account before starting a PPC campaign.
Social Media
You can reach more customers by including Social Media into your marketing strategy. Easily put fresh content in front of your customers and interact with them to find out exactly what they like. Facebook, Twitter, Pintrest, and Youtube can be very effective when reaching new and existing customers.
Internet Based Advertising
Increase the visibility of your website by advertising on other websites. There are a number of different options with this type of advertising.  You can blend your ads with the related content for a more targeted audience. Ads can be served up based on a customer's search behavior.
Television Advertising
We have had years of experience in television advertising. Going direct to the consumer is still one of the most effective means of reaching your target audience.  Chances are you have actually watched one of the commercials or infomercials we have produced.